A holistic approach to creative website design, effective marketing and technology Solutions
Small businesses have so many challenges to face. From budgets, to process management, to marketing demands. With too many balls in the air, small businesses need support that understands the complete picture, from the business, to the technology, to the website and marketing strategies. With our holistic approach to creative website design, we consider your whole business and business processes and align them with your website.
Designing a website is not a 'separate' task from the overall picture. One needs to approach the website with
a holistic strategy
. Many small businesses prefer boutique agencies that truly focus on the client needs.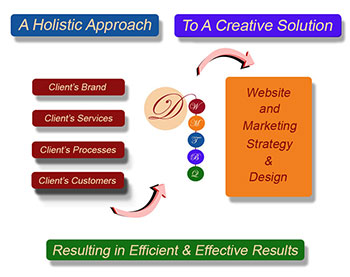 We believe that each aspect of the business integrates with and affects the other components. Clients are given the opportunity to implement strategies in an achievable scalable manner in order to quickly improve their bottom line.
Our Unique Approach and Guiding Principles
Dahlia Web Designs LLC understands the Clients' overall business processes and thereby ensures that the solutions provided are the most effective. Our expertise enables us to focus on the right things, the top priorities, to eliminate wasting Clients' time and money.
Is It Time To Brainstorm about Your Challenges and Goals?
Yes! Right Away
You are truly a MIRACLE. Thank you for your wisdom!
Joan
Our Clients appreciate many aspects of our support: our ability to see the whole picture and our communications, proactive support, follow-through, meticulousness, cost-consciousness, and our approach to helping them achieve their goals with clarity and efficiency.

Website Strategies
A website represents your business and business processes, and is aligned with your customer needs. It can't be designed in a vacuum; it needs a holistic approach. And it needs to bloom radiantly.

Marketing
Many businesses are challenged by the burden of marketing their business. With so many avenues and tools to support a marketing effort, it may be overwhelming. Focusing on the avenues that your customers view will bring greater success.

Technology
Apply Technology to enable maximum efficiency and effectiveness. Many technical tools are available to enhance your business, make it more efficient. How do they integrate? Are they streamlined? Are they the right tools?

Business Solutions
Ensure business processes are streamlined and aligned with your marketing. Are there bottlenecks, inefficiencies, unclear procedures that reduces the effectiveness of your business goals? By breaking down the processes, one can ensure that the business strategies are aligned and consistent.
Brainstorm your Business Challenges with Dahlia Web Designs LLC
We understand that small businesses need to brainstorm their business challenges. We offer virtual office hours service to address these needs.
Subscribe to our
eNewsletters for Specials


We are Constant Contact Certified.

We never share or sell your contact information. You can always unsubscribe.
 Signup for daily strategies & tips: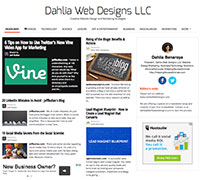 OUR SPECIAL INITIATIVE
Our business is
Website & Marketing
Strategies and Design.
Our passion is
Helping Abused Animals.
Visit Our Helping Abused Animals Platform, which includes a directory of animal rescues, our blog, our sample cruelty-free store, our daily online global newspaper discussing animal stories and issues, and more.